We can be your contract fabric laminator, supplying you with some of the components needed for your laminated package, or provide you with the entire composite. Our converting operation has a wide range of fabrics and films that are in-stock, and if we don't carry a particular item, we'll draw on our long established relationships with prime sources to find it. You'll be working directly with our own technical laminating staff to develop your own unique composite.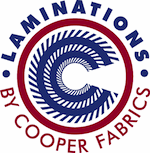 We specialize in three main technologies; Hot Melt, Flame, and Acrylic Laminations.
Our Hot Melt Lamination process is both unique and versatile. We have the ability to use many and varied adhesive systems, both breathable and non-breathable. Some of the hot melt adhesives we have at our disposal are Polyester, Polyamide, Copolyester, Copolyamide, Polyurethane, and PVC. We can handle fabrics, films, paper up to 68″ wide and have the ability to laminate three fabrics together in one operation. Fabric lamination is an important segment of our business, and having a wide range of fabrics in stock and available in our converting operation we can supplement or provide all of the textiles for our customers particular needs.
Flame and Acrylic laminations has become an integral part of our capabilities now that we are in the same industrial complex as Flame Laminating Corp.  In our flaming operation we can laminate a wide range of open and closed cells foams; polyether, polyester, polyethylene in a range of densities, (from 1.2 pcf to 8 pcf),  thicknesses, (.064" to over 1"), and colors.  We can flame laminate textiles up to 68" in width. On our acrylic line we can both laminate and coat textiles up to 65" wide.